USA - USA DAILY NEWS 24 originally published at USA - USA DAILY NEWS 24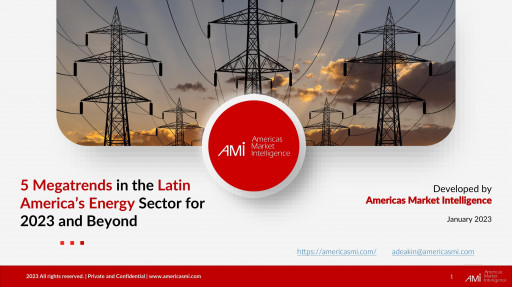 Rising natural gas demand, green hydrogen's success, distributed generation overshadowing solar, limited adoption of battery storage solutions and more
Newswire.com
)
Americas Market Intelligence (AMI) has just published a new report, entitled 5 Megatrends in Latin America's Energy Sector for 2023 and Beyond, which is available for free download on the AMI website.
AMI has completed more than 100 studies on Latin America's energy market over the years. It has produced proprietary research and market intelligence covering Latin America's oil/gas market, Latin America's renewables market (solar, wind, hydropower, biomass, biofuels), LatAm's energy storage/batteries market, Latin America's natural gas sector, Latin America's hydrogen market and more. AMI's experience is what drives the analysis reflected in this report, which highlights five major changes taking place in Latin America's energy sector:
The acceleration of natural gas demand and the growth of LNG exports.
Distributed generation will overshadow utility-scale solar as the grid suffers underinvestment.
Green hydrogen's success will be limited to the production of derivatives.
Latin America will become a major source of feedstock for renewable fuels.
Battery storage solutions will see limited adoption.
"Since we published the LatAm energy megatrends in 2021, the market has changed drastically due to a number of factors," explains Arthur Deakin, Director of AMI's energy practice. "The war in Ukraine, a possible recession, shifts in regulations, congested grids and other factors made it necessary for us to revise our analyses and offer a new set of megatrends based on hard data and current market conditions," says Deakin.
Among the key data points highlighted in 5 Megatrends in Latin America's Energy Sector for 2023 and Beyond:
Future natural gas demand by country and projected LNG exports.
Current gas reserves, gas production and years remaining of proven gas reserves in Latin American countries.
Installed green hydrogen electrolysis capacity by 2030, by country.
Feedstock availability for renewable fuels (renewable diesel and SAF) in Latin America.
Projected sustainable aviation fuel production in Latin America by 2030.
Distributed generation growth projections for 2025 and 2030 in Latin America.
Battery energy storage solutions (BESS) growth projections in Chile.
"Overall, we hope this report will help energy operators, equipment providers and investors have a deeper understanding of risks and rewards in Latin America," says Deakin. "Since we're constantly producing market intelligence studies for all energy verticals in the region, we've gained a strategic, holistic view of the region that we wanted to share."
About Americas Market Intelligence
Americas Market Intelligence (AMI) is the premier market intelligence and strategy consultancy for Latin America, providing powerful research insights for companies to succeed in a wide range of verticals in the region, including payments, healthcare, logistics, mining, energy, infrastructure, consumer goods and the industrial sector. Its customized research reports deliver data-based clarity and far-reaching strategic direction based on expert sources.
Contact Information:
Abel Delgado
Digital Marketing Director
[email protected]
305-441-9300
Press Release Service by
Newswire.com
Original Source:
AMI Publishes Report on 5 Energy Megatrends in Latin America for 2023
USA - USA DAILY NEWS 24 originally published at USA - USA DAILY NEWS 24